The Synergys LeakShooter® LKS1000-V3+ Ultrasonic Leak Detector is the latest version of the V3 LeakShooter designed to find leaks in steam traps, compressed air, gas and vacuum equipment.
Sonic Industrial Imager
This sonic industrial imager features steam trap diagnostic software STRAPSHOOTER® and offers the latest in visual and sonic leak detection currently available.
STRAPSHOOTER® Steam Trap Software
STRAPSHOOTER® is the first automatic stream trap analyzer which uses an embedded infrared pyrometer to measure pipe temperature T° IN & T° OUT. Easy to use, the LeakShooter LKS1000-V3+ and STRAPSHOOTER® software require no setup time and is ready to use right out of the box. The STRAPSHOOTER® software will automatically diagnose your steam trap's operating condition and allows you to see, hear, analyze and report your steam trap's current state.
LeakShooter V3+ thermal image of in and out temperatures of a steam trap,
Thermal Camera with Point & Shoot Technology
The LEAKSHOOTER® LKS1000-V3+ is a point-and-shoot thermal camera solution for leak detection. When pointed at a potential leak, a dynamic yellow target appears on the color LCD 5.7" 640 x 480 pixel screen. When the source of the leak is detected, the target turns red and shrinks as it hones in its specific location. To record the leak, take a picture by pressing the camera button. Each photo shows the recorded decibels, flow rate, estimated annual cost of leak and LEAKSCORE indicating the severity of the leak. Each photo is also numbered, dated and time-stamped. The thermal camera (80 x 60 pixels with 50 mK) records the temperature of the leak and its surrounding apparatus. Traditional methods of listening for leaks also work with the LeakShoot V3+ by using the supplied professional headphones that plug directly into the unit.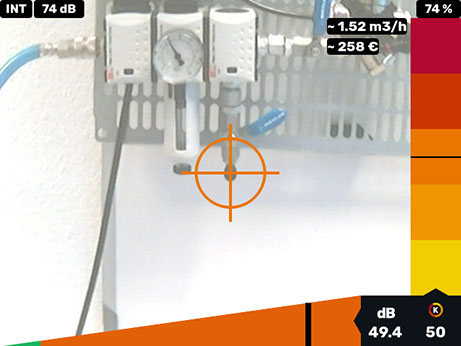 Leak detected using LeakShooter V3+. Shows decibels, rate,
LEAKSCORE (K value) and cost of leak per year.
Built-In Cost Savings Calculator
The LeakShooter LKS1000-V3+ has a built-in annual cost savings calculator that documents the cost of the leak relative to its severity. The LeakShooter LKS1000-V3+ finds compressed air leaks that often comprise 20-40% of energy costs associated with having compressed air apparatuses. Systematically checking for and eliminating air leaks can save thousands of dollars in energy costs each month or year depending on the size of your operations.
Multi-Purpose with Large Storage Capacity
The new LeakShooter V3+ can now be used not only for compressed air, gas and vacuum leak detection, it can also assist with steam trap monitoring, bearing monitoring, electrical applications like partial discharge, corona effects, punctured isolators and electrical tracking detection. Ergonomically designed, the lightweight LeakShooter V3+ can store up to 1,000 images and last up to 6 hours on a single charge.
Highly Sensitive

The LeakShooter LKS1000-V3+ can detect leaks no bigger than the size of a syringe needs at a distance of 30+ yards (20 meters). Leaks can be detected in all types of industrial environments thanks to the ability to adjust the volume gain on the device that filters out ambient noise.

Simple USB Connectivity

Photos can be uploaded directly via a USB cable and can be easily attached to reports as needed. USB cable is included with purchase.