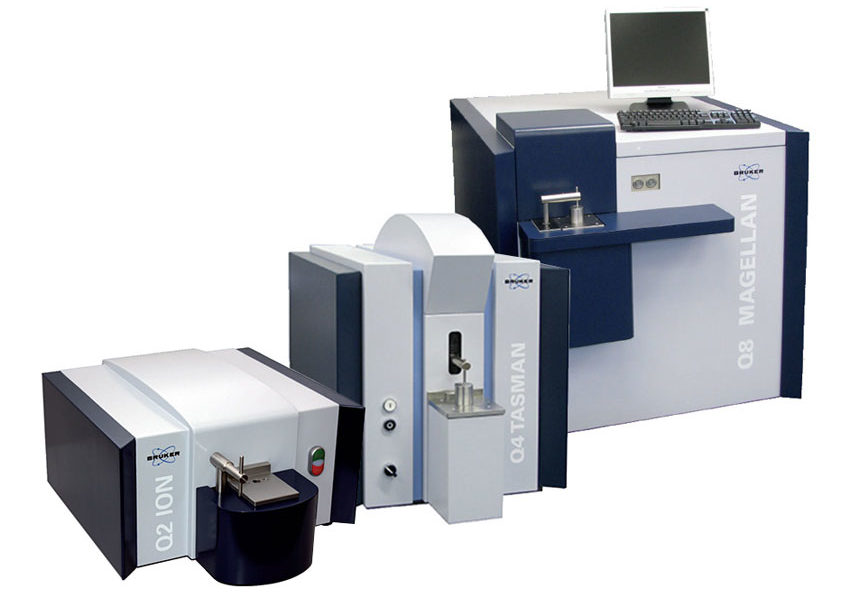 Metal Analysis is Made Effortless with Bruker OES Analyzers
The Edge on OES
For metal industry organizations like foundries, fabricators and recyclers, being able to get a quick and accurate elemental breakdown of metal composition is essential. One of the most cost-effective ways of doing that is with optical emission spectrometry (OES) analysis equipment. And when it comes to OES analyzers, Bruker delivers the capabilities you need.
Bruker technology is constantly pushing the boundaries of OES equipment. Whether it's incorporating state-of-the-art flat field CCD optics or leveraging active ambient compensation (AAC) for greater temperature stability, their goal is always to achieve the best optical performance.
Bruker's family of OES equipment ranges from ultra-compact for small operations and portable needs, to high-end stationary units for demanding requirements in quality, homogeneity and cleanliness. Their elemental accuracy at low level, combined with their relatively low cost, make the Bruker OES analyzers the preferred method for trace analysis.
The three members of the Bruker OES family, the Q2, Q4 and Q8, all come with Elemental Suite, the new software platform for Bruker OES analyzers. This intuitive Windows-based software offers a simple way to conduct routine elemental analysis.
Elemental Suite provides automated averages and limit checks to ensure safe operation. Its various control settings can be used to minimize gas consumption. And it can be used to observe the instrument's operating conditions in real time, as well as save, print and report the results.
Bruker OES analyzers are widely-accepted and easy-to-use. They ensure accuracy and the highest precision in all environments for a wide range of elements and concentrations. These robust analyzers guarantee accuracy in inspection, identification and quality control no matter the analytical challenge.
Bruker OES Analyzer Models
Q2 ION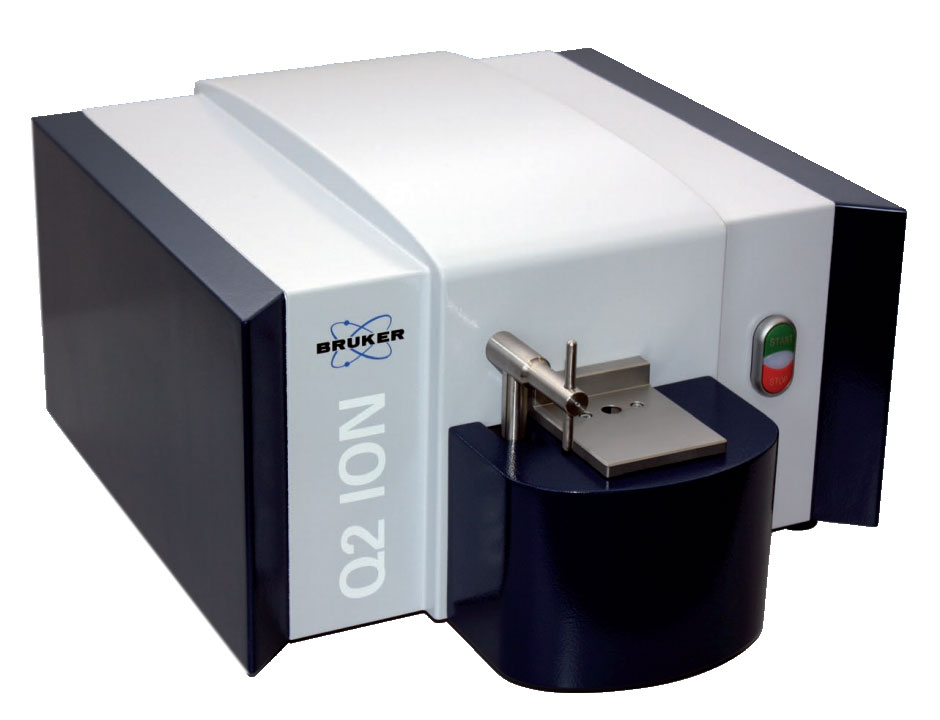 The Q2 ION is one of the smallest and lightest ultra-compact OES analyzers on the market. In fact, it's light enough to hand carry to remote sites for analysis. Due to its affordable price and low operating cost, the Q2 is ideally suited to small and mid-size metal companies and makes a feasible spare or back-up unit.
The newest generation of spark spectrometer, the Q2 Ion, is a multi-matrix system versatile enough to handle both incoming material inspection and outgoing quality assurance of metal alloys. The Q2 includes a patented flat field CCD optics system. And when the CCD detector is combined with ClearSpectrum technology, the result is superior analytical performance.
The Q2 is fast and easy to use. Just place your sample into the spark stand and press the start button. The elemental composition of the metal is delivered in under 30 seconds.
The metals the Q2 Ion can handle include the following:
Iron and steel (and their ferrous alloys)
Aluminum (and its alloys)
Copper (and its alloys)
Q4 TASMAN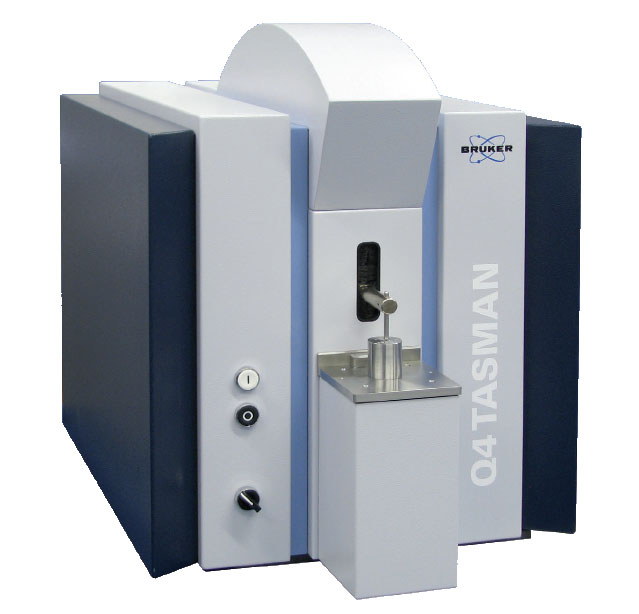 Ideally suited as a dedicated solution for your OES analyzer needs, the Q4 TASMAN provides answers fast. And the Q4's capabilities are highly extensible with the use of Analytical Solution Packages (ASP). ASPs, which are available per matrix and include elements, calibration and alloys, can dramatically improve your time to results.
The Q4's newly developed readout scans CCDs 30 times faster than the previous model, which means shorter measurement times and faster throughput. Higher dynamic ranges attained with shorter measurement times will improve efficiency and profitability.
Small metal components like tubes and fittings can be challenging to handle on the spark spectrometer during analysis, which is why the Q4 Tasman comes with optimized argon flow and various optional adapters to make the analysis easier. The co-axial argon flow puts the gas at the burn spot, eliminating the need for a standby flow. And the Q4 has less downtime with its automatic control and diagnosis functionality.
The metals (and their alloys) the Q4 Tasman can be configured to handle include the following:
Iron and Steel
Aluminum
Copper
Nickel
Cobalt
Magnesium
Lead
Tin
Titanium
Zinc
Q8 MAGELLAN
The Q8 MAGELLAN is a high-end OES analyzer that has the same user-friendly design and produces the same fast, accurate results as the above models, but also offers much more. For example, the Q8 Magellan is the only vacuum-spectrometer featuring new-generation photomultipliers, unlimited single-spark and time resolution, digital plasma generator,  and a heavy duty, low-maintenance spark stand with co-axial argon flow.
The Q8 has numerous improvements, including upgraded optical properties and enhanced analytical capabilities. The extended maintenance intervals lower the total cost of ownership (TCO) and the one-button operation makes for repeatable and reliable analysis. With the configurable analytical channels and the widest Rowland segment, the Q8 combines flexibility with the certified advantages of a single-optic vacuum system.
Another Bruker innovation in the Q8 is the co-axial argon flow. In this design, the argon is focused directly on the burn spot, which allows for the use of ArgonStop®.  ArgonStop® enables the argon to be switched off during stand-by, which saves on gas consumption and reduces start-up time. With all this cutting-edge OES technology, you might consider the Q8 the perfect metals analyzer.
The metals the Q8 Magellan can be configured to handle include the following:
Iron and steel (alloys and traces)
Nitrogen in steel
Aluminum (alloys and traces)
Copper (alloys and traces)
Oxygen in Copper
Nickel (alloys and traces)
Cobalt (alloys and traces)
Magnesium (alloys and traces)
Tin (alloys and traces)
Lead (alloys and traces)
Titanium (alloys and traces)
Berg Engineering: The Perfect Complement to Bruker OES
OES analyzers are sophisticated equipment with a wide variety of options for many applications, but you don't have to make the decision alone. That's where Berg Engineering comes in. Berg Engineering, an authorized distributor for Bruker OES equipment, is the partner you need to make your OES equipment purchases and use a success. Berg Engineering supports you throughout your OES analyzer purchase journey, from product research to acquisition.
Whether it's fast shipment or expert advice, Berg Engineering is there for all your OES analyzer needs. Berg Engineering is the complete solution provider for all your nondestructive testing needs. Contact Berg Engineering to learn more about the Bruker family of OES analyzers or for any of your test equipment needs at 847-577-3980, email info@bergeng.com or to request information, click here.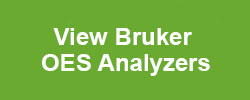 Sources