Sames Kremlin's E-Jet 2 NDT and Nanogun Electrostatic Sprayer bring innovation, quality, and value to NDT testing
The NDT world is constantly on the watch for testing solutions that can achieve improved performance and quality while reducing costs and increasing efficiency. The problem is that optimal testing often requires a relatively high quantity of consumables, such as developer and penetrant used in Liquid Penetrant Inspections (LPI). Sames Kremlin is a French based manufacturer of specialty electrostatic spray guns that offers innovative options for NDT industry spray systems. Their products are highly efficient, providing better and quicker coverage to equipment parts with a controlled, even application of consumables. Their E-Jet 2 NDT for dry powder development and their Nanogun Electrostatic Sprayer for liquid solvent-based penetrants and developers typify these benefits. They are designed to be agile and easy-to-use, and work great for the unique part testing requirements of the automotive, agriculture, aerospace, construction, manufacturing, transportation, and related industries.
Watch our on-site demo here!
E-Jet 2 NDT spray system optimizes powder flow for superior coverage and precision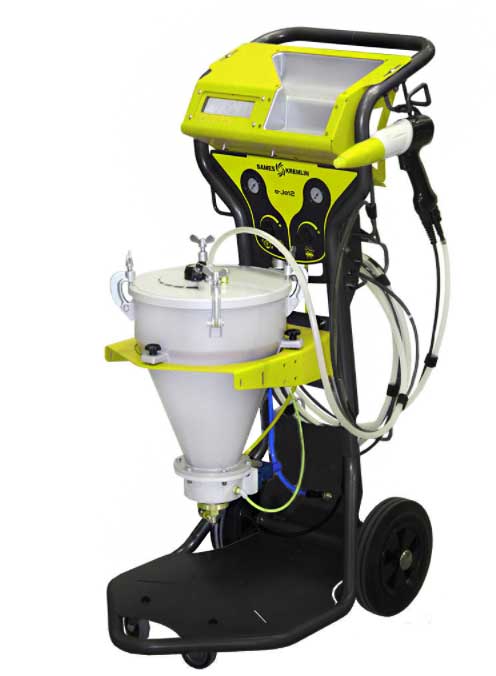 E-Jet 2 NDT is a NDT spray system designed for dry powder developer applications during the LPI process. The handheld spray gun is light, nimble, and easy to operate. It works by applying a fine, homogenous layer of powder to the part, all powered by a CSV 230 pressure pot. This pressure pot ensures optimal coverage by maintaining a low, consistent flow of powder. In safety-critical industries where developer is widely used—such as aerospace—the stable and compact design of the E-Jet 2 NDT is a perfect fit.
Ultimately, this design ensures optimal application time and regulated powder flow, for consumable and cost-saving precision. It is also low-maintenance and comes with a convenient cable and hose support that allows the easy wheeling of the system to the application site.
In medium or large-scale productions where the vibration technique used for powder applications is unsuitable, the E-Jet 2 NDT comes with a fluidized hopper.
Nanogun Electrostatic NDT Sprayer is lightweight and ergonomic
The Nanogun Electrostatic Sprayer is designed for low-pressure, liquid solvent and penetrant based applications. Its high transfer efficiency is based on wide range viscosity, and cuts down on developer or penetrant consumption, ensuring optimal coverage, and saves the operator application time.  Because of its lightweight agility, it addresses the challenge of treating parts that are too large or a poor fit for dip tanks. This superior wrap-around ability and penetration is further supported by its consistent electrostatic charge.
It also has features that make it ideal for custom jobs with obtuse part shapes and geometries. These features include adjustable voltage, airflow, and spray angle that match the inspection needs of each unique project.
Because of these innovations, the Nanogun Electrostatic Sprayer has become a dependable NDT spray system solution in several industries- including construction, agriculture, energy, transportation, wood, metallic furniture, and aerospace.
Pressure Pots support Nanogun operation in all situations
With stainless-steel Pressure Pots, operators have a dependable pressure source that can withstand even the roughest of field conditions. They are user-friendly and low maintenance, not to mention extremely versatile. For example, they can be ordered in various sizes depending on the facility needs, and come with either top or bottom outlets. The latter option, for instance, is more efficient for using the entirety of the developer or penetrant in the pot. You can also incorporate a lube-free agitator to prevent particle settlement at the bottom.
Pressure Pots are available in 2.5 gal, 1 gal, 3 gal, 5 gal, and 13 gal, and all are ATEX, ASME, and CE certified.
Berg Engineering is a proud Sames Kremlin distribution partner
Ultimately, Sames Kremlin's E-Jet 2 NDT and Nanogun Electrostatic Sprayer offer a modern and convenient option for testers in a wide range of safety-critical industries, while ensuring extreme efficiency and prudent use of consumables. The improved coverage, coupled with the reduction in consumables needed by as much as 30%+, make Sames Kremlin NDT spray systems a prudent choice for companies looking to improve their LPI practices while greatly reducing costs.
Berg Engineering is a complete solutions provider that is ISO 17025 accredited. We will guide you in your journey from product research to purchase to post-purchase support and training. Most importantly, we will provide on-site demonstrations of Sames Kremlin products so your team can see them in action, and give you confidence that they are a right fit for your operations.
Resources