An all-in-one product combining Leeb Hardness and UCI makes the SonoDur 3 Leeb D & G the most powerful testing kit yet.
Two years ago, the team at NewSonic released the SonoDur 3 as the most complete (Ultrasonic Contact Impedance) UCI hardness testing solution on the market, replacing and upgrading the capabilities of the MIC10 & MIC20. Now, a new piece of the NDT puzzle is complete with the release of Leeb D & G Rebound Hardness Testing.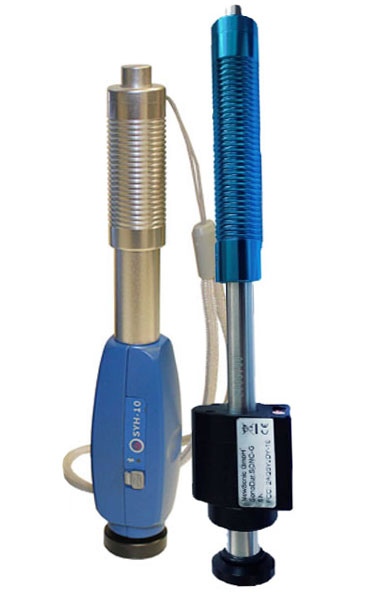 Since coming into existence in 1975, Leeb Hardness Testing is the most depended upon portable testing method for large work-pieces (ie, > 1 kg). Today, the SonoDur 3 offers a portable, accurate, and fast Leeb hardness solution that works on a variety of surface geometries and conditions, complete with a user-friendly Android system for modern data transfer along with data logging. What makes NewSonic's (now Foerster) latest release unique is that it can be purchased as a stand-alone Leeb hardness tester with the SonoDur 3, or be added to a SonoDur 3 and expand its UCI capabilities to Leeb.
According to Stephen Berg, CEO of Berg Engineering, "With the SonoDur3 Leeb D & G NewSonic has completed the hardness testing puzzle by offering a truly comprehensive solution. It delivers the power of the UCI tester with Leeb while also offering a stand-alone Leeb solution. There's really nothing else like this on the market. A real game-changer!"
Unparalleled Versatility
With UCI and Leeb D & G in one product, you can measure a wide range of objects, from large metals with a rough surface area to the small and complexly shaped. Up until now, the market has lacked a dependable and affordable stand-alone Leeb hardness testing unit with all of the capabilities of the SonoDur 3.
The SonoDur 3 can measure hardness on a wide range of parts, including:
Round
Light/heavy
High hardness
Large and thin
Heat treated
Hard to access testing locations
Access to testing from one side of applications
Minimal surface impact by test method
Applications encompass:
Welds
Gears
Turbine blades
Carburizing
Annealing
Quench and Temper
Rail Testing
Flanges
Engine blocks
Shafts
Coils
Pipes
Extrusions
A Full Suite of Features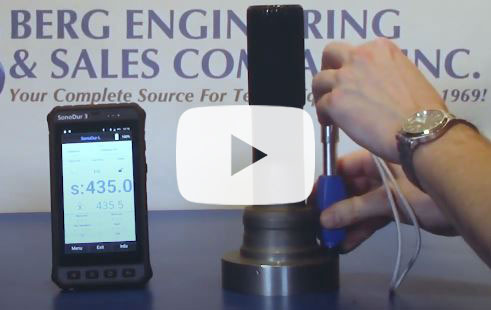 NewSonic (now Foerster) Leeb D & Leeb G hardness probes work on heat-treated and non-heat-treated alloys and metals per ASTM A956, ISO 16859, and GB/T 17394. It calculates the Vickers Hardness HV from the L-Value and can convert to other Hardness scales or tensile strength. It is capable of test forces ranging from 11N to 90N.
With this latest release, you get all the features of the current SonoDur3, including data logging, wireless transfer of data, and  the added versatility of Leeb hardness testing capabilities. It furthers the transition from the discontinued GE MIC10 and MIC20 UCI hardness packages by offering new capabilities above and beyond what those older systems used to do.
The NewSonic (now Foerster) Leeb hardness tester offers best-in-class repeatability and accuracy. It boasts a ca. 0.3% L-Value at HL = 800, and a Vicker's tolerance of <4% and Repeatability of < 5%.
Similar to the SonoDur3 UCI, the Leeb D & G probes will operate for over 8 hours, withstanding both cold and warm temperatures ranging from 14ºF to 129ºF (-10ºC to 45ºC).
Connectivity and Seamless Data Interface
SonoDur3 Leeb D & G offers a modern user interface for rapid data transfer. It supports Bluetooth connectivity within 100 feet and stores data of the data transfer to SonoDur3. The Leeb part of the SonoDur 3 works with the SonoDur L software, which is included as part of the standalone Leeb or complete UCI package.
A Portable and Lightweight Product Kit
The product includes an impact device, impact body, cleaning brush, USB-charging cable, and a power device. The travel case gives you easy portability for in-field testing. Similar to the SonoDur3 UCI, it will serve you in even the most remote, hard to reach, and challenging testing locations.
Berg Engineering is here for all your SonoDur 3 Leeb D & G needs
Berg Engineering is proud to be a NewSonic (now Foerster) service center, and is excited for the new era this latest release represents. We offer you a full package of support to ensure your Leeb D & G experience is a success, from sales, to training, to support. We have invested our time and expertise to ensure this product delivers as promised. At each step of your purchasing journey, from product research to purchase, to post-purchase support and training, we are by your side ensuring things run smoothly.
Resources