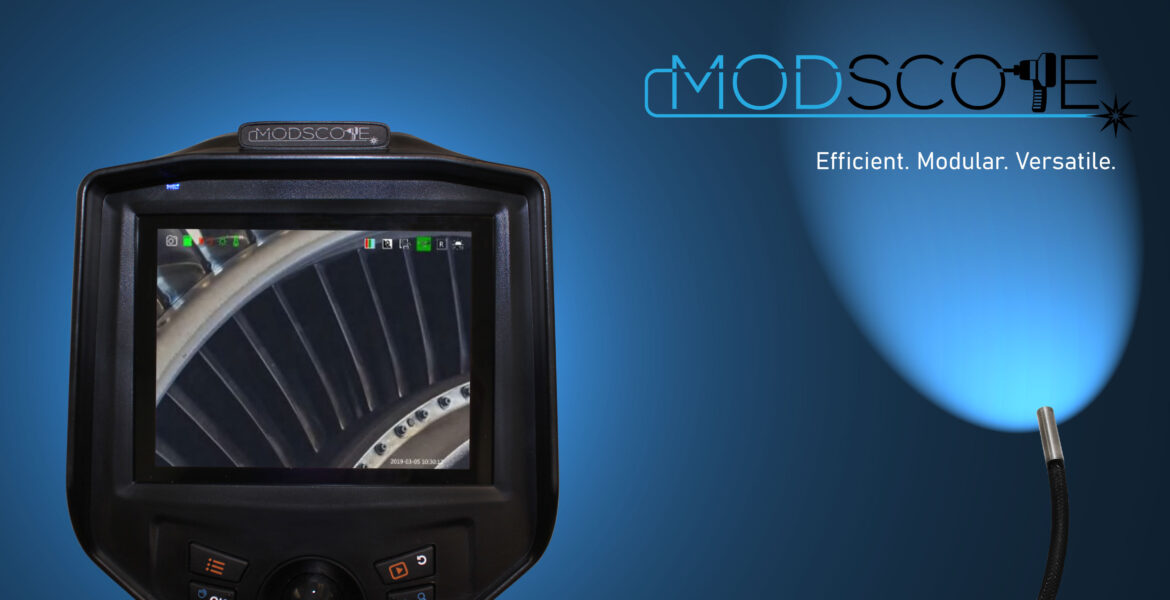 Aerospace, Energy, Automotive, Manufacturing, Military, Pharmaceutical, and Food & Beverage industries – take note. The ModScope videoscope is a high definition, high quality, and durable remote visual inspection tool providing an alternative to other high-cost units available on the market today.
Following unique inspection requirements within each industry can be particularly challenging due to hidden objects or areas that cannot be accessed with human sight. In most cases, the area in question is behind or under permanent equipment that cannot be readily moved or dissembled. Access openings and narrow pathways present challenges. By using Remote Visual Inspection (RVI) tools, inspectors can employ video-enabled technology to identify flaws and employ predictive maintenance. These flaws may include faulty welding, corrosion, decay, and obstructions, among others.
A good visual inspection tool must offer versatility via variable size cameras and probe lengths, while providing convenient user interface such as modern video display, touchscreen and on-screen markup capabilities. The easy-to-use and intuitive menu-driven ModScope offers videoscope technology that can withstand a range of testing and environmental conditions – from extreme temperatures to dust and fluids.
A Video Borescope with Versatility, at a Fraction of the Cost
Berg Engineering's recently launched "ModScope" is a modular videoscope that meets an urgent need for a solid, cost-effective video inspection method. Our nondestructive testing RVI probes for long-range inspections (up to 10 meters) are 1/3 less expensive in cost and upkeep than competing options. In addition, the ModScope's modular design means multiple probes can work with one handset display, expanding unit capability.
Four variations of the new ModScope videoscope are available, with 3.5″ and 5.1″ models. The nuances of the ModScope models ensure a wide range of inspection needs are met; the best choice for your application is categorized by industry and operational needs.
The 5.1″ ModScope Model with Broad Probe Options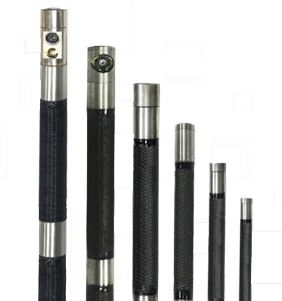 The 5.1″ ModScope model features the broadest range of interchangeable probes in the ModScope family. This midrange option offers an HD screen, enhanced POD, and optional temperature sensor and touchscreen capability. Probes come in the following size diameters: 2.2mm, 2.8mm, 3.8mm, 4.2mm, 6.0mm and 8.0mm. With 1 megapixel the most common, longer probes may feature 450,000 pixels. Probes come with optional damage-preventing temperature sensors that will alert the user to extreme temperatures and shut the unit off at 176 degrees Fahrenheit.
The 3.5″ ModScope – Excellent Entry Point Option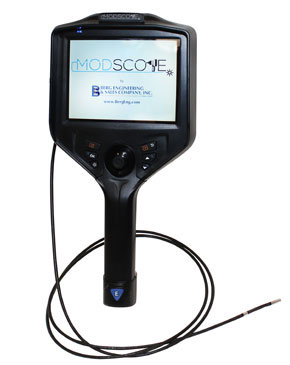 The 3.5″ ModScope model incorporates all the features of the 5.1″ model and offers an entry point option for those beginning in RVI or performing simpler inspections. For camera size, you can choose between 3.8mm, 6.0mm or 8.0mm, with probe lengths ranging from 1 meter to 10 meters. In HD, the number of pixels for probes is 1MP, although 450,000 pixel cameras are available for longer probes.
The Automotive ModScope with a Super LED Light Source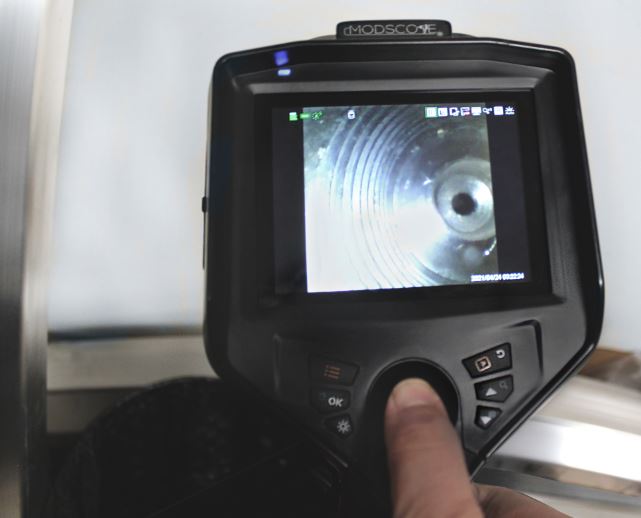 The Automotive ModScope model meets visual inspection challenges specific to the auto industry. Whether it's inspecting hard-to-see electrical components or exhaust systems, the Automotive ModScope is a versatile tool for quality control. This model features a 3.5″ HD screen and all-way articulation.
The Police ModScope – Gather Information with Less Risk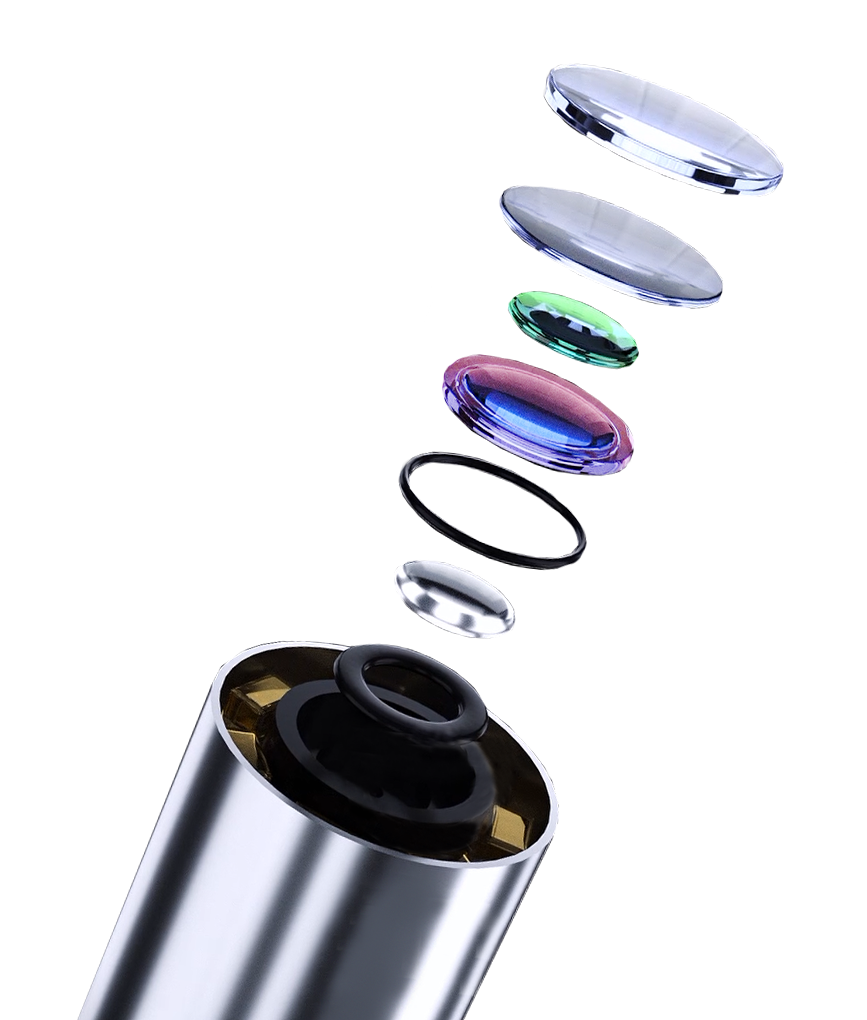 Suitable for Law Enforcement and Military, the Police ModScope allows officers to gather information with less risk. Inspect vehicles, suspicious packages, and view rooms before entering. With the powerful light source, the ModScope can also assist in checking cavities during search and rescue. This model features IR night vision and white light, with easy toggle between the two. It utilizes probes between 1.5 – 3.0 M and lets you view distances up to 18 meters.
Berg Engineering ModScopes Promise a Better Degree of Inspection Visibility
In all models described above, image quality is high definition, with still images and up to 720p HD video. Light sources like the Super LED and a Fiber Optic up to 100,000 lux ensure optimum brightness for the inspection situation. Combined with features such as automatic white balance, onscreen scales, negative film mode, and more, the ModScope videoscope increases POD in all types of inspection.
The ModScope videoscope design provides a 4-way, 360 degree directional view, and up to 170-degree articulation angle – depending on probe size and length. Forward, side view, or dual camera orientations provide visual power, with a real-time zoom feature furthering probe capability in the tightest of areas. With the scale viewing feature, you can measure defect size and compare it with the coordinate display. Live, on-screen annotations on images also allow for clear and precise communication of findings.
Any Time, Any Place, Any Condition
With its 5 layers of wear resistant tungsten-braided sheath, you can take the Modscope to even the most rugged site conditions. The display and handset come with an IP65 rating, and the probes are rated IP67. It is resistant to shock and drop, is water and dust proof. In the case of extreme temperatures exceeding 149 degrees Fahrenheit, the temperature sensor alerts automatically shuts down the system at 176 degrees Fahrenheit to prevent probe damage.
Tailored to the User
The user interface features easy-to-use record and menu buttons, with short press and long press for photo and video, respectively. The ModScope videoscope supports seamless data transfer via WiFi, HDMI, or USB. Further, in remote conditions where electricity supply may be limited, the ModScope runs continuously with an 8-hr battery charge using swappable batteries for greater uptime.
Berg Engineering Proudly Introduces the ModScope for Your Most Challenging Visual Inspection Needs
With the ModScope videoscope, Berg Engineering is solving one of the NDT industry's greatest pardoxes: How do you make advanced remote visual inspection accessible to a wider range of industries, applications, and users?
Our service to you extends beyond providing a product. Our videoscope comes with free technical support and a 1-year warranty on parts and labor. Berg Engineering is an ISO 17025 accredited, complete solutions provider. We will guide you from product research to purchase to post-purchase support and training. Most importantly, we will provide on-site demonstrations of our products so your team can see them in action, giving you confidence that the ModScope is the right fit for your operations.