The Zetec MIZ-21C Eddy Current Tester makes measurement fast and easy
The Case for Eddy Current Testing
Whether you're trying to detect cracks near fastener holes, identify corrosion in airframes or make conductivity measurements, Eddy Current (EC) is a nondestructive way to conduct your inspection. There are a few different nondestructive testing techniques, including liquid penetrant testing (LPT), magnetic particle testing (MPT), and eddy current testing (ECT). Why should ECT be used?
Eddy Current Testing is best for applications that require high probability of detection, like measuring conductivity in aircraft aluminum to verify the proper heat treatment, or for scanning large areas for surface cracks (Eddy Current Array). These types of tests enable you to efficiently acquire more data, making testing that much easier for technicians in many situations.
When looking for a device that can handle multiple applications, increase probability of detection and put operators at ease with friendly-form factor and interface, the MIZ-21C excels.
Zetec
Zetec, in business for more than 50 years, is a global leader in nondestructive testing (NDT) solutions. A subsidiary of Roper Technologies, Inc., Zetec specializes in manufacturing NDT equipment for applications that require fast, cost-efficient inspection with heightened levels of insight and control.
Zetec considers the quality of their equipment to be a strategic advantage. As a result, the company has created their own internal quality and compliance program based on the following quality standards:
• ISO 9001
• ISO/IEC 17025
• 10CFR50
• 10CFR51
About the MIZ-21C
The MIZ-21C Eddy Current Tester is one of the most advanced handheld eddy current units available today. It's a highly portable and cost-effective replacement for liquid penetrant testing (LPT) and magnetic particle testing (MPT) inspections that create continual consumable costs, a longer processing time and cleaning of parts before and after inspection.
Zetec designed the MIZ-21C eddy current tester to be a cost-effective, ergonomic (single-hand operation) solution for extended use in nondestructive flaw detection. The MIZ-21C has passed many important environmental tests, including meeting MIL-STD-810H standards, drop tests from 4 feet, storage and operating in challenging temperatures (502.7 procedures I & II, 501.7 procedures I & II) allowing it to be used in harsh environments. Replaceable, rechargeable batteries support all-day operation, virtually eliminating down time. Its portable design makes it ideal for hard-to-reach areas for testing.
Where the MIZ-21C really shines is its flexibility. It can come with a surface array option which can reduce inspection time by up to 95% versus pencil probes for large area scans. Features such as increased internal storage capacity, multi-language software and both USB and wireless connectivity make the device flexible enough to work in almost any environment.
Among all these features, performance is not sacrificed. Its exceptional signal-to-noise ratio helps inspectors distinguish true signals in single and dual frequency. Dual frequency with mixing nearly eliminates undesirable signals caused by air gaps in layers, making inspections more precise and targeted on the flaws in question.
MIZ-21C Models
The MIZ-21C comes in three models to meet different requirements and budgets.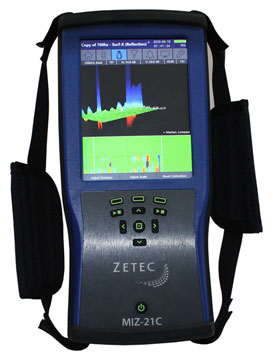 The MIZ-21C-SF is the single frequency model. It is the entry-level unit, but still comes with all the standard features while offering the ability to use a conductivity probe as well. Single frequency testing allows you to test for cracks and other discontinuities using conventional probes. The additional conductivity module allows users to test materials for conductivity, verifying proper alloy heat treatment.
The MIZ-21C is the dual frequency model capable of using a rotating scanner. It's the next step up from the SF model and can do everything the SF model can and more. The rotating scanner allows you to insert the probe and test easily with repeatable results. Dual frequency testing allows the user to eliminate unwanted signals in multilayer inspections, increasing the probability of detection.
The MIZ-21C-Array is the top of the line. With dual frequency, rotating scanner and eddy current array (ECA), the unit has all the functionality of the other models plus the Array. The Array allows users to scan and record a 3 dimensional image of the testing surface. The Array model has the highest probability of detection.
MIZ-21C Applications
When inspecting materials for flaws/material changes a unit with flexibility is required.
The MIZ-21C Eddy Current Tester can be configured to handle a wide range of applications. One such application is monitoring the corrosion in tubes (heat exchanger, steam generators, condensers); the MIZ-21C can be set up to detect thinning, cracks, pitting, hydrogen embrittlement and other defects. The MIZ-21C also has the ability to be set for Multifrequency to eliminate unwanted signals from outside factors such as support plates and probe wobble.
When looking to scan or test parts that have a larger surface area, the MIZ-21C array is extremely useful for detection of surface breaking flaws as well as some near surface issues. The MIZ-21C Array has a variety of different flexible array probes available to cover a variety of applications and geometries. This allows enables the user to easily conform the probes to test flat, concave or convex faces quickly, and with high accuracy. Scanning on pipes (external and internal faces), drums as well as plates for cracks is now fast and efficient. Pairing the flexible array with an encoder enables the user to easily map and locate material issues.
Zetec + Berg = Winning Combination (High Performance + Great Support)
Now that you know what eddy current tester model you might need and an application it can be used for, the question is, where do you get one? The answer is Berg Engineering.
Berg Engineering has been serving the non-destructive testing, material testing and electrical testing equipment industries for over 50 years. They have an excellent reputation for strong technical support, customer service and fast response times. In addition, they are a stocking distributor and authorized service center for Zetec products. So, not only can you get your Zetec products there, but they can do calibrations, repair, warranty support work for you as well.
Berg Engineering is an ISO 17025 accredited calibration laboratory, as well as a provider of product training and ASNT training (both in person and remote). Whether it's fast shipment, in-stock delivery or expert advice, Berg Engineering is there for all your NDT needs. Berg Engineering is a complete NDT solution provider throughout the entire purchase lifecycle, from product research and purchase to post-purchase support and training. Contact Berg Engineering to learn about the Zetec family of products, or for any of your test equipment needs.

Sources