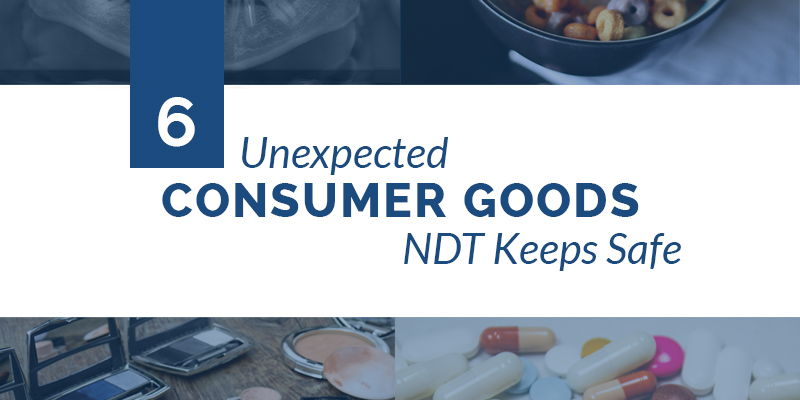 Nondestructive testing (NDT) keeps us safe via the routine inspection of items like bridges, airplanes and manufacturing facilities. The coolest part about NDT is that it can test these materials and items without destroying them, so after testing they're still useable. NDT is used for more than just keeping our infrastructure and commercial products sound-as explained in our recent infographic here. It's also used for manufacturing consumer products too!
Not only is NDT used for the manufacturing equipment used to make many of the products below, but it's also used to detect flaws in the product themselves post production. How cool is that? What's cooler is it can be used to keep the integrity of historical artifacts like artwork and swords!
Take a look below to see things that NDT benefits that you never knew about:
Cosmetics
Cosmetics make use of an NDT style called X-ray Diffraction (XRD), which provides elemental analysis feedback. This ensures that the structural characteristics of the cosmetics are safe. Powder cosmetics can also be tested with Scanning Electron Microscopy (SEM), which analyzes the active ingredients of the product.
Companies have run into problems in the past for not properly testing their products. In 2016, EOS was sued by several women after they received rashes and blisters from using the company's infamous lip balms. With use of NDT testing, EOS could have saved customers from the rashes by making sure the active ingredients of the lip balms were safe for consumers.
Pharmaceuticals
To protect pharmaceutical packaging and pharmaceuticals, NDT is used to make sure that these products are safe and secure. NDT assessments, like Spectroscopic Technology, look for leaks in packaging and uniformity of pill casings-including the molecular makeup of pills.
Both consumers and companies have suffered from not going through proper NDT quality control procedures. In 2010, it was revealed that Glaxo was allowing employees to contaminate sealed tanks and mix powerful pills to save on costs. These scandalous practices caused consumers to receive faulty pills, laced with bacteria from employee contamination. Rather than cutting on costs, Glaxo could have used NDT practices to make sure bacteria wasn't within the molecular makeup of the pharmaceuticals before giving them to consumers.
Children's Toys
NDT X-ray Florescence Technology is used to test children's toys for lead and other hazardous chemicals. Lead can be extremely hazardous to young children, causing lead poisoning if the children are exposed to lead often. Information about the limits on lead content can be found at the US Consumer Product Safety Commission's website. A 2007 NDT study found high levels of lead in 36% of the 1,200 toys tested. That same year, over 500 million toys were recalled for high lead levels.
Food
The food industry uses NDT X-ray Technology to ensure that products are made safely and without contamination. Since the food industry is an extremely competitive marketplace, that demands efficiency and cheap products, accuracy is crucial. NDT provides accuracy for both the consumer products and manufacturing procedures. Processed food makes up 70% of American's diets.
Consumers are constantly running into problems with processed food companies who cut corners to make a higher profit. In 1994, General Mills was sued after it was discovered that Cheerios cereal was tainted with pesticides. Consumers received $10 million in coupons as a settlement. NDT could have saved General Mills and Cheerios lovers alike with safe, non-destructive testing of the cereal.
Medical Imaging
Echocardiography, medical ultrasonography, and digital radiography have been influenced by NDT. Echocardiography is the ultrasound of the heart, while medical ultrasonography is the ultrasound of other internal organs and body structures. Digital radiography is a form of digital X-ray scanning that bypasses the chemical processing of traditional X-rays. 7 out of 10 Americans get a medical or dental X-ray scan each year. Approximately 12 million ultrasound tests are conducted yearly.
These important tests ensure that doctors can find the cause of health issues and diagnose patients sooner, ensuring better outcomes for the patients. They also ensure for healthy and safe pregnancies, so more and more cute babies can be born each year.
Artwork
To ensure authenticity, artwork is commonly inspected. NDT prevents fraudulence, while reducing the risk of damaging the fragile pieces of art. What's better? The arts and culture sector of our economy contributed $704.2 billion in 2013, which is 4.2% of the GDP, and supported 4.7 million jobs.
The art world has suffered from plenty of embarrassing fake art scandals. Approximately 70 to 90% of pieces that go through The Fine Arts Expert Institute NDT tests are fake! They also claim that 50% of the artwork for sale on the art market is fake. A recent scandal with a 1531 Lucas Cranach the Elder painting confirms this suspicion. In 2013, the piece was tested using NDT and found to contain titanium white-something unavailable to artists until the 20th century. The art community is starting to rely on NDT more frequently to confirm authenticity rather than visual identification.
A Visual Approach
Now that you know the facts, let's take a closer look at how NDT unexpectedly keeps your everyday consumer products safe!
Infographic © 2017 by Berg Engineering. Licensed under Creative Commons 2.0. You are free to republish this infographic–simply provide linked attribution to Berg Engineering.
Share this Image On Your Site
References:
Cosmetics & Chemistry
Pharma Cosmetics Testing Facilities
The Health Reason People Are Suing EOS Lip Balm
9 Industries That Benefit From Non-destructive Testing
Processed foods make up 70 percent of the U.S. diet
Lawsuits challenging food labels on the rise, but are they good for consumers?
Arts and Cultural Production Contributed $704.2 Billion to the U.S. Economy in 2013
ART FORGERY – More Than Half of Art is Fake?
Suspected $255 Million Old Master Forgery Scandal Continues to Rock the Art World
We Want You to Know About X-Rays: Get the Picture on Protection
How Many Ultrasounds Do Americans Get?