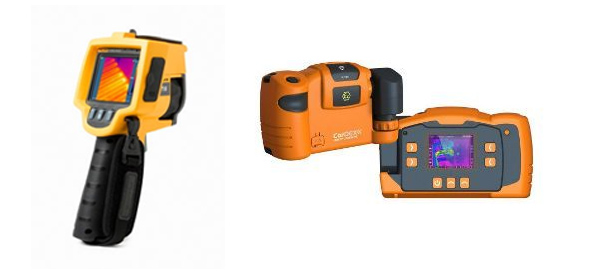 At Berg Enginee
ring, one of the most popular categories of products that we offer is the thermal imaging devices from CorDex and Fluke. As thermal imaging technology has progressed over the last 50 years, the devices used have become easier to operate and much more user friendly. We stock a wide range of thermal imaging devices, from simple meters that fit into a toolbox all the way to top of the line units that offer wireless pairing as part of a larger diagnostic system.
Thermal imaging cameras detect infrared radiation, which has a wavelength of 9,000–14,000 nanometers, and convert it to a visible image called a thermogram. Since infrared radiation is emitted by all objects, thermal imaging makes it possible to see one's environment with or without direct visible illumination. In most real-world applications, the amount of infrared radiation emitted by a warm object increases as its temperature increases. Hotter objects will stand out much more against a cooler background. So, it's easy to understand how thermal imaging can allow an inspector to see otherwise invisible variation in temperature of a sample.
The use of thermal imaging has increased exponentially with the advancement of the technology needed to make the devices and affordability of the components involved. It's now quite common for inspection technicians to use thermal imaging cameras to locate troublesome components within a system or find defects in joints and power lines that are indicative of stressed parts. Maintenance technicians can use thermal imaging to locate overheating components like bearings that are a hallmark of fatigued and failing machinery. It's also great for home inspection and to optimize energy efficiency. You can detect leaks in faulty thermal insulation or even detect water damage and mold growth after a flood.
If you're not ready to purchase your own thermal imaging system, or only need one occasionally, we also have an equipment rental program. You can find out more about package rental cost and availability by calling 847-577-3980.