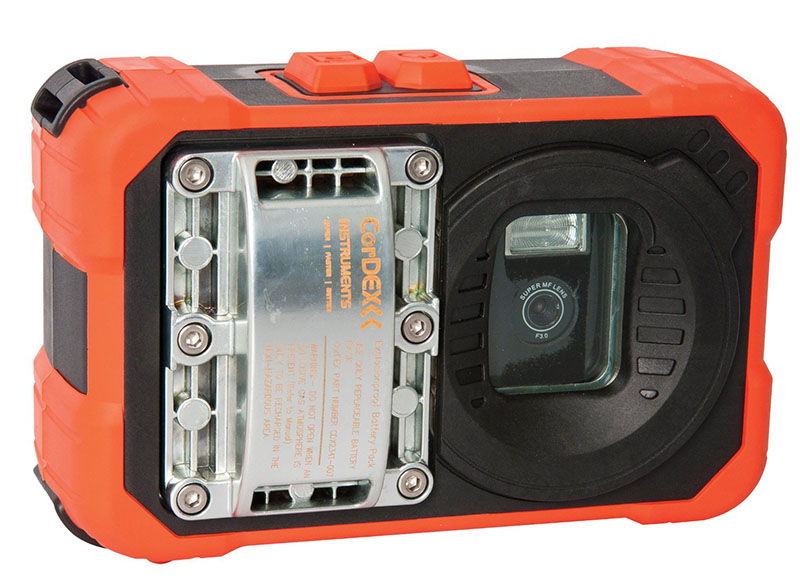 In the world of materials testing, not every work location you encounter is safe. If you are in an explosive environment, safety is an even bigger concern. If you need to capture pictures or video, a standard digital camera won't do the job. To work without the risk of igniting the atmosphere, it's essential that you use an intrinsically safe device. The Cordex ToughPIX 2304XP is just such a tool for these dangerous areas. It provides all the functionality of a digital camera in an intrinsically safe package.
The Cordex ToughPIX 2304XP is completely CSA certified for operation within Class I Div. 1 B, C, and D hazardous (explosive) areas. It's also designed specifically with the toughness to handle these environments. It takes any abuse keeps working without fail. The unit is equipped with a rugged armored aluminum case to ensure its protection from damage—including bumps, drops, and other hazards to sensitive equipment on the job site. The unit also features an anti-static molding that further protects the camera while preventing any accidental electrical discharge. To make it easier to use while wearing protective clothing, the ToughPIX 2304XP is also designed with large, easy-to-press buttons to ensure that safety is never compromised.
All this added safety doesn't mean that the ToughPIX 2304XP skimps on features, though. It's equipped with a fully automatic flash and red-eye reduction, meaning your images always come out clear—even in low light. The camera can capture images up to 10 megapixels. It saves them on its internal 4 gigabyte storage card. You can download the images with the included USB cable. The ToughPIX 2304XP also features an easy-to-see armored LCD screen on the rear to view all your photos. The kit even includes a long-lasting 1100 mAh rechargeable battery with a charging station. The ToughPIX 2304XP also comes with a lens kit that includes both a macro and wide-angle lens to ensure that you can get the best view of your environment, no matter what the applicaton.
We understand the difficulty with the cost of a dedicated piece of equipment like the Cordex ToughPIX 2304XP. Some companies may find it hard to justify the expense of something that their technicians will use only occasionally. We've made it easier and more convenient than ever to rent one of these specialized cameras. Simply contact Berg Engineering at 847-577-3980, or follow the link below to request a quote. Don't put your safety on the line! Use the Cordex ToughPIX 2304XP for your imaging needs in dangerous environments.