Overview of Explosion-Proof and Intrinsically Safe
The terms explosion-proof and intrinsically safe are related but not identical. Both explosion-proof and intrinsically safe equipment are used in hazardous environments where there are increased risks of fire or explosion. The ubiquitous "fire triangle" from safety courses and diamond warning signs commonly seen on transportation containers warn us about these dangers.

Environments that have significant amounts of flammable/explosive vapor or dust have an increased risk of catastrophic accidents. Without the proper equipment, something as small as a spark from an electronic device can set off a major explosion. To better understand the benefits of these instruments, it is first essential to know what they mean, where the certifications come from and what environments require them.
What Does Intrinsically Safe Mean?
Intrinsically safe equipment must have components and connectors that are incapable of producing sparks or heat under either normal or fault conditions that could cause ignition of an explosive atmosphere. Typically, voltages and currents are kept at low levels. Equipment that requires voltages, currents and components that do not meet these conditions require an explosion-proof certification in these environments.
Certifying agencies include international, national, and industry bodies. Most try to ensure their certifications are compatible with one another. Some major certifying agencies for intrinsic safety include:
Underwriters Laboratories
Canadian Standards Association
ATEX Directives – EU directives specify what equipment and workspaces are allowed in an environment with an explosive atmosphere
National Electrical Code (NEC)
National Fire Prevention Association (NFPA)
What Does Explosion Proof Mean?
As with intrinsically safe certification, there are international, national, and industry organizations that certify and specify explosion-proof systems. Most organization specify both types of equipment.
The NFPA/NEC definition of "explosion-proof" states that an apparatus should be enclosed in a case that can withstand an internal explosion from gas, vapor, or dust in an atmosphere. The apparatus inside the explosion-proof enclosure may employ voltages, currents, and temperatures well beyond those present in an internally safe system. The enclosure is designed so that the energy of an internal fire or explosion will not only be contained, but also be dissipated safely through the flanges or threads of enclosure connections.
Industries that Need Intrinsically Safe or Explosion Proof Equipment
Many industries and businesses operate in environments where flammable or explosive atmospheres form through gases, vapors, or dust. They include:
Chemical Refining
Oil and Gas
Power Generating
Petroleum and Gas Handling Facilities and Petrochemical Plants
Military
Aerospace
Industries Using Flammable Liquids for Operations
Dry Cleaning Plants
Fuel Servicing Areas
Feed Mills
Metal smelting and Refining Plants
Plastics Manufacturers
Producers of Pharmaceuticals and Sugar
Plants Handling Carbon Dust or Graphite
Textile Mills
Flax Processing Plants
These Industries are just a small example of how hazardous atmospheres are present during regular operations. Care must be taken to prevent any ignition source from being introduced. To avoid the hazards and costs of hot-work permits and unit shutdowns, implementing solutions with explosion-proof and intrinsically safe equipment is often the solution to alleviate operational, process control, safety and security concerns.
What Intrinsically Safe Products Are Best for My Inspections?
Berg Engineering offers a range of CorDEX intrinsically safe thermal imaging cameras and the Labino MidBeam Hercules Ex explosion-proof UV inspection lamp as safe solutions for inspection equipment needed in hazardous environments. We also offer additional explosion-proof and intrinsically safe devices for other applications including other lights and accessories.
Intrinsically Safe Thermal Imagers and Cameras
All objects at temperatures above absolute zero emit thermal radiation, mostly in the form of infrared radiation (IR) or infrared light. The wavelength of IR is between 700 nanometers and 1 millimeter, placing it between visible light and microwave radiation on the electromagnetic spectrum.
Infrared is not normally visible to humans, so using a thermal imaging camera is a way to capture physical representations of the subject's temperature. The camera can detect temperatures and "hot spots" that are different in temperature from their surroundings.
Thermal Imaging Can Be Helpful for for a Wide Range of Applications
Preventive Maintenance: Thermal cameras can easily detect abnormal hot spots on operating equipment or pipelines. Bearings, pumps, motors, and HVAC equipment can all benefit from thermal imaging.
Electrical and Electronic Equipment: Abnormal current flows in circuit boards, or other equipment will lead to localized hot spots that are easily visible through thermal imaging. It can detect defective connections, overheated components, or malfunctioning solar cells or panels.
Energy Audits: Thermal imagers are excellent tools for energy audits for buildings or equipment. They can identify locations of heat loss that can be insulated better, saving money and pollution.
Hydraulic Systems: Thermal cameras can find potential failure points in hydraulic systems, as these will tend to give off heat.
Pipes and Ducts: Thermal imaging can be used to identify leaks and blockages.
All these applications can be in hazardous atmospheres that demand intrinsically safe or explosion-proof thermal imaging tools.
The CorDEX ToughPIX Digitherm is a recent addition to the CorDEX line of thermal imagers and has passed rigorous testing to be certified Class I Div. 2 MET and ATEX/IECEx intrinsically safe.
Its features include:
5-megapixel high-resolution visual camera
Ultra-bright LED flash
80×60 Infrared Thermal Sensor Array
Adaptive Thermal Blending (ATB) – Real-time visual/thermal image blending
Lightweight, made of aircraft grade aluminum, weighs less than 14 ounces
WIFI Download images directly to your tablet or smartphone with the CorDEX CONNECT Mobile app or via an on-board web server
Rechargeable, removable battery
Using CorDEX EMA, DIGITHERM can measure from -10⁰C to +380⁰C with accuracy up to ± 2⁰/2% degrees.
Sleek and rugged compact design
Alarm triggered recording
Soft touch buttons for ease of use
Never run out of memory thanks to the removable CorDEX Memory card
Motorized optical focus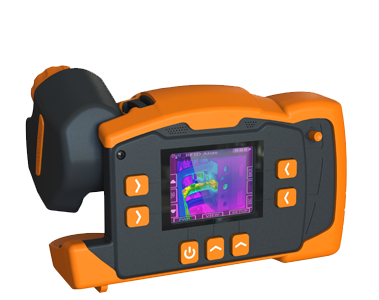 The CorDEX TC7000 is an intrinsically safe ATEX and IECEx certified infrared camera. It is a field-tested thermal imager and offers reliable thermal imaging while offering best-in-class intrinsically safe performance. The TC7000 offers Radio Frequency Identification (RFID) scanning and image tagging for easy referencing of images and reporting.
Built-in 13.5 MHz RFID reader. Assign RFID data to images for automatic collations and reporting with CorDEX CONNECT software
High speed, manual focus lens – resolve minute detail with high-sensitivity
Articulating Head – See over, under and around obstacles without moving the display
Long-life Rechargeable Lithium-ion battery – up to 6 hours continuous runtime
Wireless connectivity with CorDEX CONNECT
Measurement temperature range of -4°F to 1112°F
Rugged, water-resistant, and suitable for temperatures to -20⁰C
Drop tested from 3'/1 meter on concrete
Image Frequency 9Hz
Detector 320 x 240 uncooled microbolometer
IP54 Ingress Protection rated
Compatible with CorDEX Smart IR Windows
The CorDEX TC7150 is also a high performance radiometric infrared camera but offers NRTL certifications for Class I and II, Division 2, and Class III Hazardous (Classified) Locations. Like the TC7000, the TC7150 also offers Radio Frequency Identification (RFID) scanning and image tagging and all of the same features as the TC7000.
Explosion-Proof UV Inspection Light
Ultraviolet (UV) light is helpful in a wide range of inspection, troubleshooting, and quality control applications. UV light has a wavelength of 100 – 400 nanometers, with most inspection processes using UVA light with a wavelength of 315 – 400 nanometers. Industrial applications include:
Nondestrucitve testing (NDT) for crack detection
Leak detection in hydraulic and cooling systems
Air conditioning and refrigeration equipment
Industrial plant and machinery
Detection of hydrocarbons in oxygen installations
Inspection of printed circuit clear coatings
Just as some environments need intrinsically safe thermal imaging, others may require an explosion-proof UV inspection light.
The Labino MidBeam Hercules is an extremely durable product specifically developed for use in areas where the risk of an explosion is high – think offshore oil rigs, refineries, aerospace and defense. This UV light has passed many certifications including ATEX, IECEx, NFPA and United States military tests, Salt Fog Test and Explosive Atmosphere Test. It is rated IP66.
A rugged device that has passed thermal, impact, and drop tests, and suitable for service in temperatures from -4⁰ F to 104⁰ F.
UV light produced by four UV LEDs emitting UV light with an intensity of 4,000 μw/cm2.
Powered by a battery pack or mains. Batteries can be recharged without removing them.
Talk to Us About Your Safety Needs & Goals
Here at Berg Engineering, we believe in supplying with the right solutions for your inspections and NDT applications. If you have any questions about what is right for your particular situation, do not hesitate to contact our technical staff at 1-847-577-3980 or email info@bergeng.com.
Sources
International Electrotechnical Commission (IEC)
European Committee for Electrotechnical Standardization (CENELEC)
ATEX Directives
Factory Mutual
Underwriters Laboratories
Canadian Standards Association
National Fire Protection Association
Labino